详细信息
ROYCO 756A AND ROYCO 756
HYDRAULIC FLUID, AIRCRAFT, MISSILE, AND ORDNANCE PETROLEUM BASE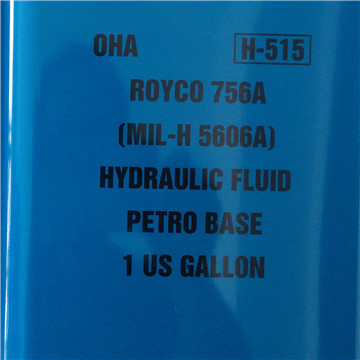 GENERAL INFORMATION
ROYCO 756 is a red-dyed, mineral oil based hydraulic fluid developed for the severe duty demands of aerospaceand industrial service. ROYCO 756 contains additives that provide excellent low temperature fluidity aswell as exceptional antiwear, oxidation - corrosion inhibition, and shear stability. In addition, metal deactivatorsand foam inhibitors are provided in this high viscosity index fluid to enhance performance in many general purposehydraulic applications.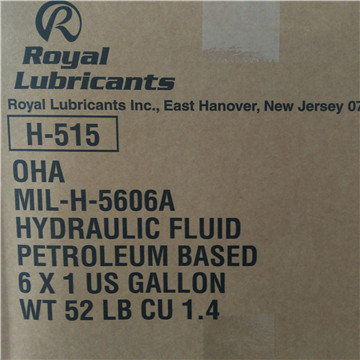 TYPICAL PROPERTIES:

APPLICATIONS
ROYCO 756 is designed for use in aircraft, missiles, autopilots, shock absorbers, cherry pickers, boom trucks,robotics, and auto wreckers requiring all - weather performance. ROYCO 756 is particularly recommended for usein systems where a "super clean" fluid can contribute to improved component life and reliability. ROYCO 756 canbe used in unpressurized systems operating at temperature ranges from -54 to 90°C (-65 to 195°F) and in pressurizedsystems from -54 to 135°C (-65 to 275°F) at pressures up to 3000 psi. ROYCO 756A may be used insystems not requiring a "super clean" id and where the convenience of a resealable container can provide costsavings.

ADVANTAGES
• Wide operating temperature range
• "Super Clean" fluid to improve equipment life(Royco 756)
• Low temperature fluidity
• Excellent oxidation and corrosion inhibition
• Exceptional antiwear performance

COMPATABILITY
ROYCO 756 should not be used in systems using natural rubber elastomers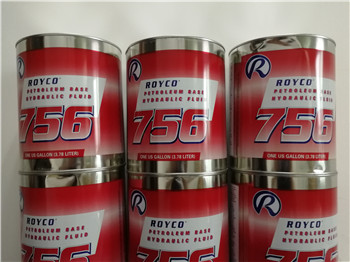 APPROVALS

ROYCO 756 meets all requirements and is qualified under MIL-SPEC: Mil-PRF-5606H that supersedes Mil-H-5606,Mil-O-5606, AN-O-336, AN-VV-O-336, and AAF-3580.ROYCO 756A meets Mil-H-5606A.
ROYCO 756包装为1G/罐 6罐/箱 现货供应
ROYCO 756A包装为1G/罐 6罐/箱 少量现货供应